Introduction
T&C Garment Company Limited is one of the most prominent garment enterprises in Nam Dinh province, exporting to demanding markets such as the US, Europe, Korea, and Japan. Founded in 2012, T&C Garment has made steady progress, affirming the brand's industry reputation [1].   
Embracing a people-centric culture, Mr Trung Nguyen – CEO, was looking for a financial wellness program that helps the workforce with their financial struggles. Since 2021, T&C Garment has joined hands with GIMO – a leading on-demand pay solution provider in Vietnam- hoping to better their staff's financial lives.  
The

Challenge

:

Unexpected

expenses

don't

wait

for

payday

 

 
Unexpected expenses can come out anytime in the month, and being paid once a month can leave employees feeling financially vulnerable. In such times of financial distress, workers would have to withdraw their savings or even get tangled in predatory financial services, said Mr Trung. 
T&C Garment looks to make life a little easier for their workers. Enter on-demand pay.  
The Solution: Get paid on-demand  
Partnering with GIMO, T&C Garment offers their employees anytime, anywhere access to accrued wages to relieve the financial stress they sometimes encounter due to unplanned expenses between paychecks.   
GIMO worked closely with the company to organize a series of workshops to ensure all employees clearly understand the new financial welfare program.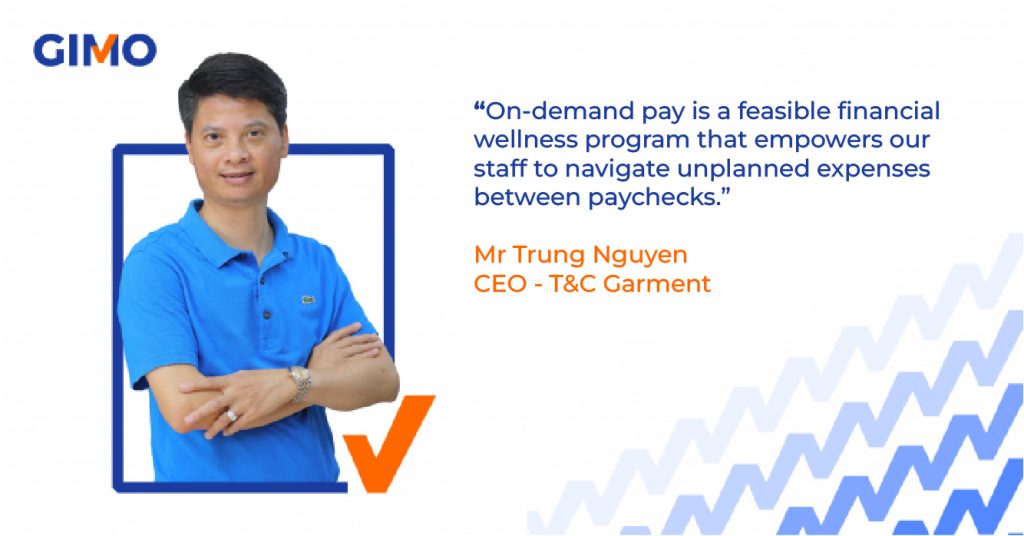 The Results
GIMO takes the financial burden off workers' shoulder
63% of surveyed workers turn to on-demand pay for living expenses such as house rent, utility bills, and child's tuition fees. 
A T&C Garment worker shared, "Now that I have GIMO, my child's unexpected school fee was quickly and easily handled. I wouldn't have to borrow from others anymore."  
80% of the workers surveyed said that on-demand pay reduces their financial anxiety.  
Workers can unlock a portion of their earnings anytime, anywhere, with only a few touches on GIMO's mobile app. On-demand pay hence reckons a practical solution to helping employees cope with unease over finances when payday is far away.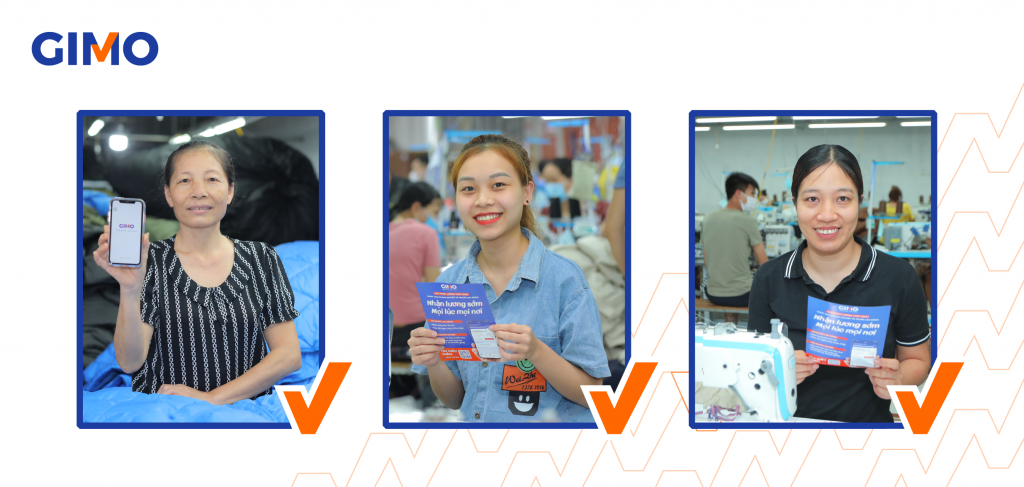 T&C Garment benefits from a more engaged and healthier workforce
Nearly 100% of the employees participating in the survey claimed they were happier working with the company.   
It's truly a win-win situation for both the employer and their employees. The financial wellness program makes a visible difference to the workforce. More engagement, more positivity, and more focus are all present.  
61% of the surveyed workers have stopped using informal financial services since receiving on-demand pay.  
According to T&C Garment, some of their employees relied on usury loans as a band-aid solution before GIMO's on-demand pay program was applied. The situation caused them to suffer dreadful financial and mental consequences.   
By unlocking the set-in-stone pay cycles, GIMO provides T&C Garment's workers with a safe and responsible rainy-day fund to rely on in times of need: "Thanks to GIMO, I can receive my salary in just a few minutes with no need to borrow" – A worker at Garment T&C shared.   
Through their partnership with GIMO, T&C Garment has granted their staff greater power over pay and a responsible alternative to borrowing or even predatory lending for expenses between paychecks, thus nurturing a more financially resilient and engaged workforce.  
Stay in the know
Subscribe to get our latest featured stories