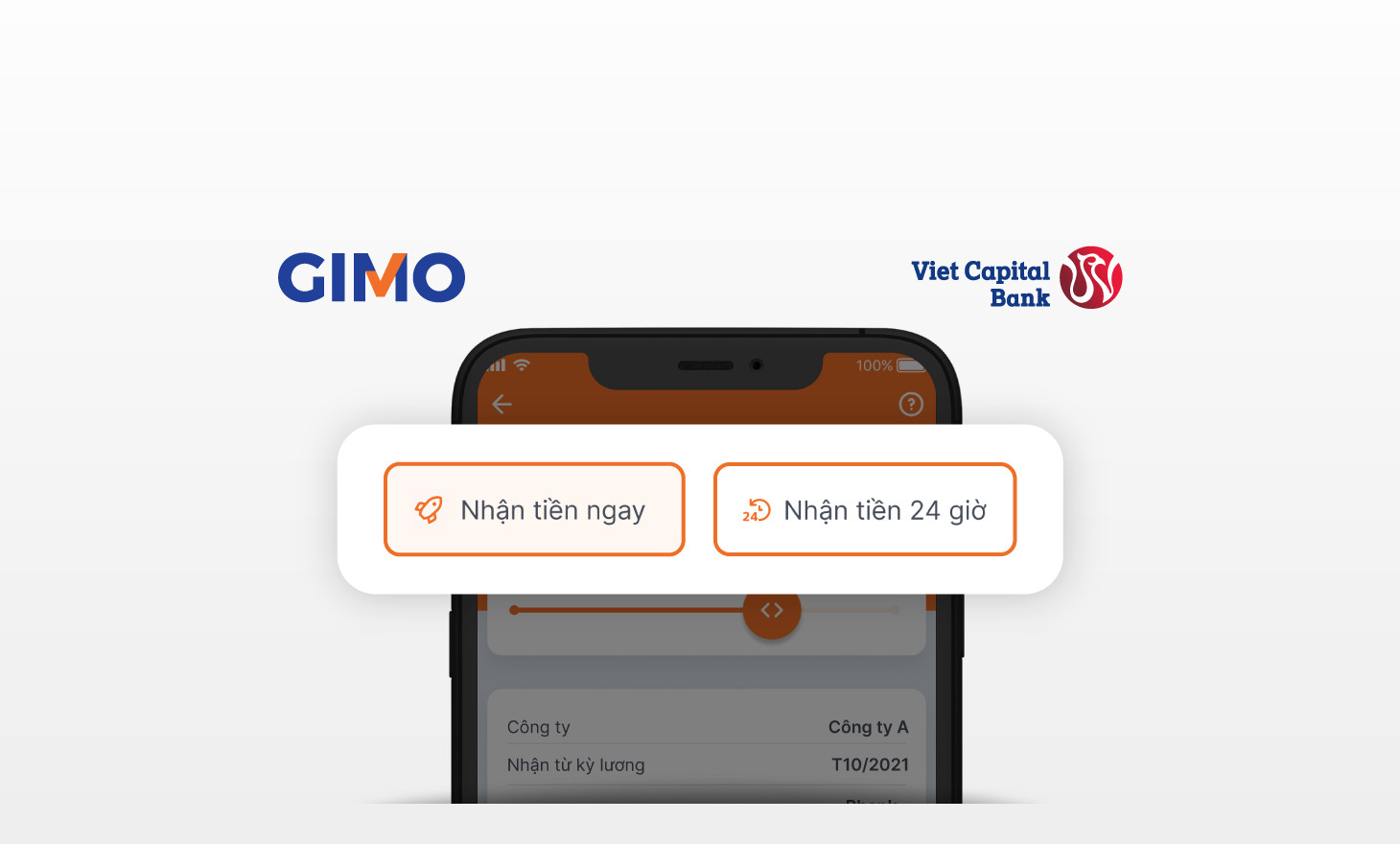 HANOI, Vietnam – October 6, 2021   
GIMO has officially launched the new instant payment feature in partnership with Viet Capital Bank, enabling users to receive their earned wage in just 30 seconds starting from October 6, 2021. 
As one of the pioneers in the Earned Wage Access playing field in Vietnam, GIMO has provided local businesses and workers with a tech-based financial welfare program since 2019. Our solution constantly evolves, optimizing the user experience to the max. As of October 6, transactions can be made instantly with maximum security. 
Leveraging on Viet Capital Bank's operating system, transactions on GIMO App are now verified and processed automatically. The newly integrated automation meets the highest security standard, reassuring GIMO's users and business partners on cyber safety. 
"In this day and age, when technology is taking over all business aspects, data security is among top priorities for everyone. Working with Viet Capital Bank, HR personnel information and payroll data is more secured than ever. Our users and partners can now put their worries at ease." Quan Nguyen, co-founder, and CEO of GIMO, shared his thoughts on the matter. "With this latest upgrade, aside from the enhanced safeguards, our users' experience is optimized with instant access to their pay at a reasonable rate," he added. 
Transactions on GIMO App are now processed within 30 seconds after the request is successfully submitted. Our users are now offered multiple options to fit their specific needs at that time of usage. The system integration between GIMO and Viet Capital Bank has successfully occurred, causing no delay or interruptions to GIMO current service offering. The instant pay option is now available to use for all GIMO's users everywhere, providing instant assistance in times of financial emergency. 
As fellow entrepreneurs in the financial sector, GIMO is glad to have been able to partner up with Viet Capital Bank in upgrading our earned wage access solution. In 2020, Viet Capital Bank was honored to be awarded the title of "Bank with outstanding innovative products and services" by IDG and the Vietnam Association of Banks. Regularly cooperating with Vietnamese SMEs, Viet Capital Bank provides digital financial services, helping to innovate and transform business processes. 
Stay in the know
Subscribe to get our latest featured stories